SiriusXMStreamer
SiriusXMStreamer - Sirius|XM Internet Radio Stream Proxy
Listen to Sirius Internet Radio and XM Radio Online streams through your favorite media player, game console, or mobile device!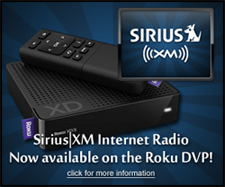 January 14th, 2013 - SiriusXMStreamer is now officially retired...

Unfortunately, after several years and countless hours of development, wrestling with SiriusXM's online streams, trying to provide a more user friendly experience for SiriusXM subscribers, I have made the difficult decision to cancel my SiriusXM subscription. For the past year and a half or so, I have maintained my SiriusXM subscription for the sole purpose of continuing to provide support for SiriusXMStreamer, but with every new update to thier web player, SiriusXM has made their internet streams more and more difficult for third parties to access.

Early last year, I spent about three months completely rewriting SiriusXMStreamer from the ground up to use the new (at the time) Flash based internet streams. A couple of weeks before I was ready to finally release the update, SiriusXM changed their web player and streams once again. Since then, I have spent many hours trying to come up with new ways to access the streams, but each has either proven unsuccessful or was a little more legally and/or morally ambiguous than I felt comfortable with. At this point, I feel that I've exhausted my options and my patience trying to add value to something that SiriusXM apparently doesn't want value added to. So, regretfully, I am officially retiring SiriusXMStreamer.

I would like to thank everyone who supported my efforts over the past few years, through donations, beta testing, emails, tweets, forums, etc. I genuinely appreciate every bit of it, and am glad I was able to provide an application that so many found useful!

Thank you,
TheEndless
About

SiriusStreamer is now known as SiriusXMStreamer!

SiriusXMStreamer allows you to listen to your favorite Sirius Internet Radio and XM Radio Online streams on any media player, mobile device, or UPnP player (in conjunction with a UPnP server) that supports WMA audio streams. With a transcoding UPnP server, such as TVersity, even UPnP players that don't support WMA can be used to listen. Features include:

Built-in media player with live title updates
ASX, M3U and direct MMS stream URLs
ASX and M3U playlist generation
RSS feed generation
Favorites list
Channel browser with channel logos
Minimize to tray to allow running in the background
Automatic updates
and more...

SiriusXMStreamer was developed by TheEndless.

Twitter: @TheEndlessDev

Download

The latest version of SiriusXMStreamer is available via the link below. As this is a beta release, please do not be discouraged by any bugs you may encounter. If you do experience any bugs, please notify me either via the Digital Radio Central forums thread, the TVersity forums thread, or email.

The latest version of SiriusXMStreamer, released on May 10th, 2011, can be downloaded from:
SiriusXMStreamer v1.9.11 (1293k MSI)

Previous Versions (Changelog)
SiriusXMStreamer v1.9.9 (1729k MSI)
SiriusXMStreamer v1.9.8 (1752k MSI)
SiriusXMStreamer v1.5.1 (1711k MSI)
SiriusXMStreamer v1.5.0 (1711k MSI)
SiriusStreamer v1.1.9 (1075k MSI)
SiriusStreamer v1.1.8 (1075k MSI)
SiriusStreamer v1.1.5 (821k MSI)
SiriusStreamer v1.1.0 (817k MSI)
SiriusStreamer v1.0.0 (633k MSI)

System Requirements
SiriusStreamer has the following requirements to operate properly:
Sirius Internet Radio and/or XM Radio Online subscription
Windows XP SP2 or higher
Microsoft .Net 3.5 Framework
Your favorite media player
Screenshots
Following are some screenshots of the application. Click on an image for a larger version.


Main Log Tab (with channel playing)

Configuration Tab

Sirius Channel Browser Tab

XM Channel Browser Tab

Windows Media Player with a
SiriusXMStreamer Playlist loaded
Donate
If you're interested in donating money to support the development effort and you have a PayPal account, you can do so by clicking the "PayPal Donate" button below.


Disclaimer
I am in no way affiliated with Sirius|XM. I am just a Sirius Satellite Radio subscriber who thought this application would be useful. All Sirius|XM specific content provided by the SiriusXMStreamer application is the property of Sirius|XM or its licensors and is protected by copyright, trademark and other intellectual property laws.